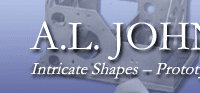 Contact Us
A.L. Johnson Co.
4671 Calle Carga
Camarillo, CA 93012
(805) 389-4631
(805) 389-4632
sales@aljcast.com

Use the form below to request a quote, more information or our Casting Design Kit.



Find your local representative here.


Our engineering staff at the foundry can be reached weekdays from 7:00 am to 5:00 pm Pacific Time.

Call 805-389-4631 and one of our field representatives will be happy to discuss any aspects of the RPM process and the best methods available for transforming your designs into production castings.

A. L Johnson Company maintains a staff of professional field representatives that are equipped with sample castings, current literature and technical knowledge to assist with your casting designs.

Remembering that each design is unique and presents its own series of considerations we urge you to consult with us at the earliest possible stage.

Electronic transfer of data and drawing files is available but sometimes leads to complications and misinformation. Two dimensional drawings, which include tolerances and specifications, are recommended to insure accurate quotations.