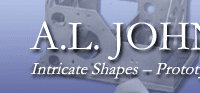 Intricate shapes in metal.
Prototypes and production from the same low cost, permanent tooling.
AL Johnson Company (ALJ) is a producer of precision aluminum and zinc castings and a pioneer in the use of the rubber plaster mold process since 1954. We service customers in a wide variety of leading technology industries such as biomedical, telecommunications, computer peripherals, guidance and navigation.

We are a one-stop shop with the ability to deliver your part complete to print.
ALJ's in-house services include:

Why use Rubber Plaster Mold castings?

| | |
| --- | --- |
| | Rubber Plaster Mold tooling costs a fraction of die cast tooling (See ALJ Advantages) |
| | Unlike sand castings, Rubber Plaster Mold castings can include thin walls, close tolerances and better surface finishes. |
| | Rubber Plaster Mold castings produce intricate designs, unlike costly hog outs. |
| | Rubber Plaster Mold castings offer the same advantages as investment castings, but at a lower tooling and casting cost with a shorter lead time. |

Whether the requirement is for quantities of 10, 50, 100 or 1000s, RPM is your choice because of:

| | |
| --- | --- |
| | Fast Turnaround |
| | Easier Machining, Painting and Processing, Assembly |

See our 2005 Casting of the Year Honorable Mention Award from Modern Casting.

Contact us today for a quote or for more information.